Grammarian PRO3 Helps To Perfect Writing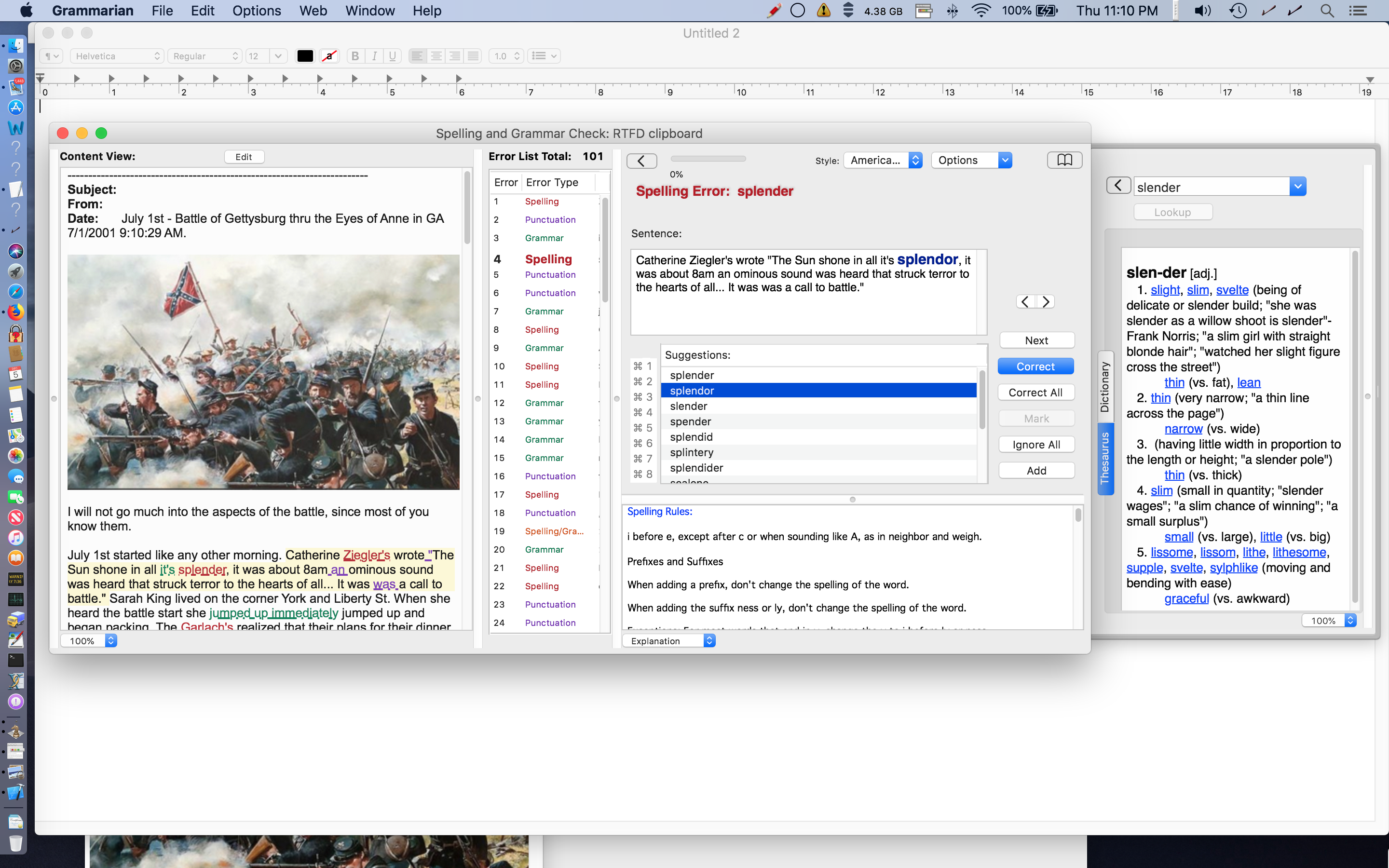 Perfect - Grammar Check Mac
Grammarian PRO3 X Menu and Lookup
Check grammar and spelling here, there, and everywhere. Wherever you write, Linguisoft's grammar checker is there. Grammarian PRO3's spelling and grammar check features are universally available, anywhere you enter text, in all applications-word processors, email, web browsers, and all other applications.
Easy and powerful. Convenient and easy to use. All features are accessed from a global universal menu.
The Best Writing Advantage
Automatically save time and keystrokes. With Grammarian PRO3's AutoType, you type a few letters and Grammarian PRO3 automatically expands them. Save precious time and keystrokes. Insert standard greetings, phrases, and signatures as formatted text. Correct typos automatically. Insert the current date and time in any preferred format. And do so much more.
Qualified and reporting for duty. Whether you are writing an email, a school essay, or your PhD Doctoral Dissertation, Grammarian PRO3's grammar check will help you along the way. Remembering all the grammar and spelling rules can be a challenge. Implementing the rules is another matter entirely. Let Grammarian PRO3 help. After all, Grammarian PRO3 has over 30 years of dedicated educational research and is qualified to assist.
Feature-rich all-in-one Grammarian PRO3 X:
Grammarian PRO3 X checks grammar, spelling, punctuation, style, phrase usage, and more. Grammarian PRO3 X reads through your text and analyzes each sentence for potential grammar, spelling, and punctuation problems.
Has much more grammar, spelling, and punctuation checking power than the limited and crippled checkers in Microsoft Word™, Microsoft Office™, macOS, and online grammar checkers. See our Grammar Checkers: Comparisons Testing
Has over 300 built-in primary grammar, spelling, and punctuation writing rules compared to MS Office's 26 error corrections.
Checks homophones-words that sound the same but are spelled differently such as it's for its, accept for except, loose for lose, to for too and two, and many more.
Reference aid displays grammatical parts of speech and linear sentence diagramming, to assist with evaluating the right choice of corrections.
Grammarian PRO3 X is the ultimate writing choice.
Write, edit, and review. Target your audience. Review and edit with Grammarian PRO3's professional Statistics tools. Grammarian PRO3 X is the best Mac grammar check solution!