Download build 3.5b28: Grammarian PRO3 X 3.5b28

11/19/21

Bug fixes
New Auto Input Menu update







Alert Monterey: Note the FAQ on this Apple bug if you have an installation problem with the Grammarian Input menu. Sometimes the Grammarian Input menu will not show in the flag menu even though it is listed in the System Preferences/Keyboard/Input Sources list. This could happen when a Grammarian Input menu is already installed and is updated. Follow the FAQ instructions to reset the system preference setting (11/19/21)



Requirements:
• M1, Intel, 64-bit processor
• OS X 10.9 or later



---
---


Download build 3.5b26: Grammarian PRO3 X 3.5b26


10/19/21

1. Input menu update. Grammarian will ask to update the Grammarian Input menu.
2. Interactive Checking update with Async error sounds and Async popup menu.
3. Grammar/Spelling Services update.
4. Readability - Allow Total Words to be displayed even if no sentences with punctuation are counted.
5. Grammar engine update. Additional cumulative deep structure error checking.
6. Additional homophone and dyslexic construction checking.
Examples: I can

due

tomorrow, but I

knead

to

leaf

by 1pm.

Due

you want to

due

that?

i

f sew

, I'll just be

hear

an

d we

can do it on the fly.




* Monterey: Note the FAQ on this Apple bug if you have an installation problem with the Grammarian Input menu. Sometimes the Grammarian Input menu will not show in the flag menu even though it is listed in the System Preferences/Keyboard/Input Sources list. This could happen when a Grammarian Input menu is already installed and is updated. (11/14/21)


Requirements:
• M1, Intel, 64-bit processor
• OS X 10.9 or later



---


Download build 3.5b25: Grammarian PRO3 X 3.5b25


8/30/21

1. Fixes several Input menu issues under Monterey.
2. M1 Universal.

Download build 3.5b24: Grammarian PRO3 X 3.5b24


---
What's new?
macOS 12 Monterey Compatibility:
Grammarian PRO3 X v3.5 works with macOS 12 Monterey: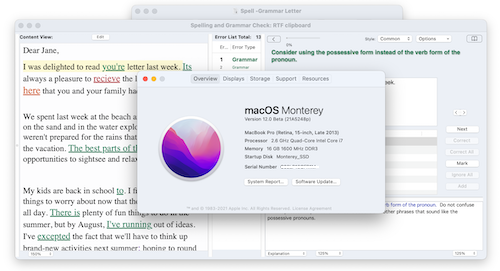 Grammarian PRO3 X v3.5 is M1 Universal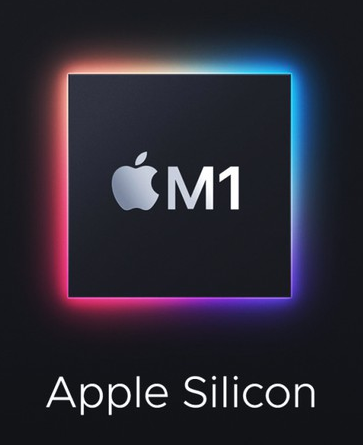 Grammarian PRO3 X Interactive Checking - AutoComplete
AutoComplete, or word completion, is a feature in which Grammarian predicts the rest of a word a user is typing. Grammarian's AutoComplete speeds up typing as it predicts the word the user intends to enter after only a few characters have been typed.

Grammarian PRO3 allows two popup window styles for selection:

▪ Horizontal bar





▪ Vertical popup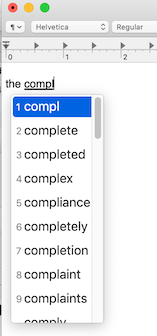 ▪ AutoComplete can be turned on/off with a shortcut key or selection from the Pencil Menu/Interactive Checking.


▪ AutoComplete Interactive Checking menu settings: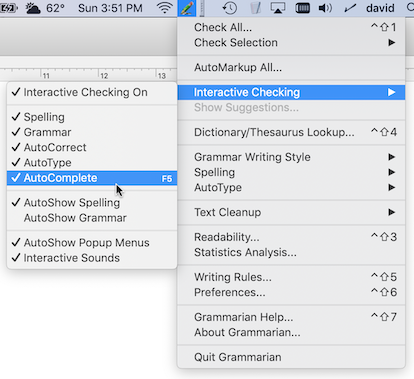 ▪ The AutoComplete window styles and functionality settings can be changed in Grammarian's Interactive Checking Preferences window: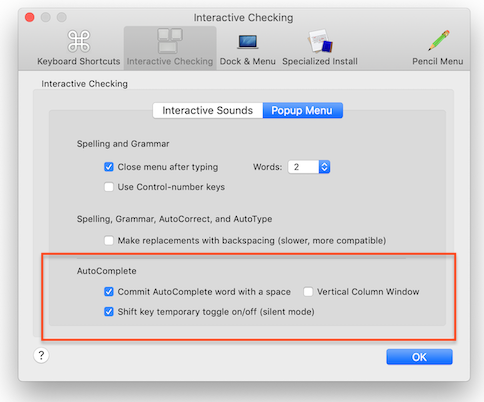 * AutoComplete is available for macOS 10.8 and higher



Apple NLP Natural Language framework
Grammarian PRO3 now adds the Apple NLP Natural Language framework (Analyze natural language text and deduce its language-specific metadata such as part of speech, lexical class, lemma, script, and language). This adds to Grammarian's NLP options and the accuracy of NLP tagging. Although the Apple NLP works only on macOS 10.13 and up, Grammarian PRO3 will still work without this on lower systems. Grammarian is now incorporating this to train and deploy natural language models.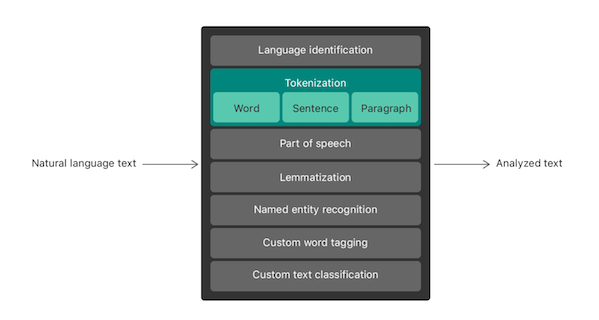 Apple NLP is available for macOS 10.13 and higher.




Document Check Window Sentence and Suggestions adjustable font size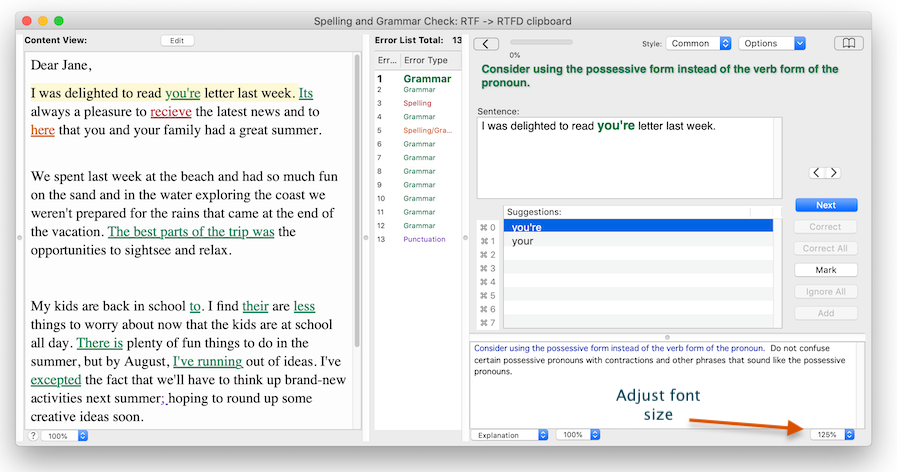 New UTC Date/Time works from AutoType and Text Cleanup/Insert Date:

Save to Clipboard Menu Backup Function
While doing a clipboard grammar check, you can save all changes made back to the clipboard. This is a safeguard backup solution. You can paste the new clipboard backup into any document window at anytime. These changes stay on the clipboard until another copy or cut command is made. This is a current backup that can be pasted into any new document even during checking.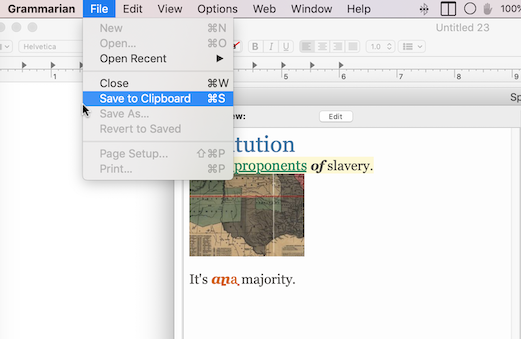 FREE limited grammar/spelling checking version (during and after full demo ends).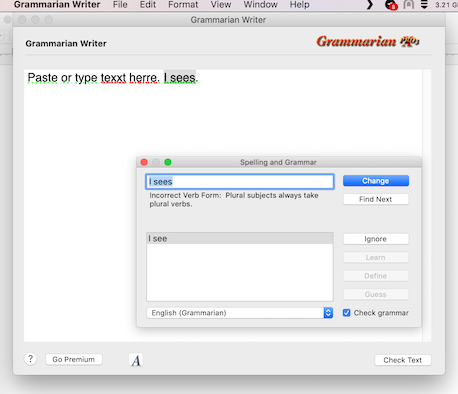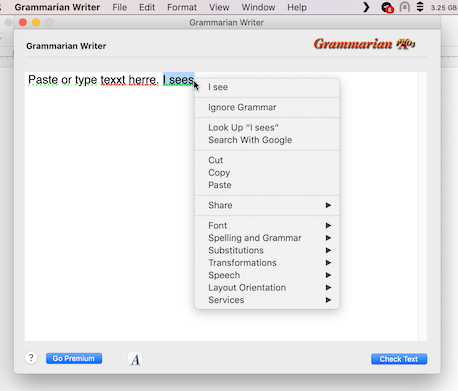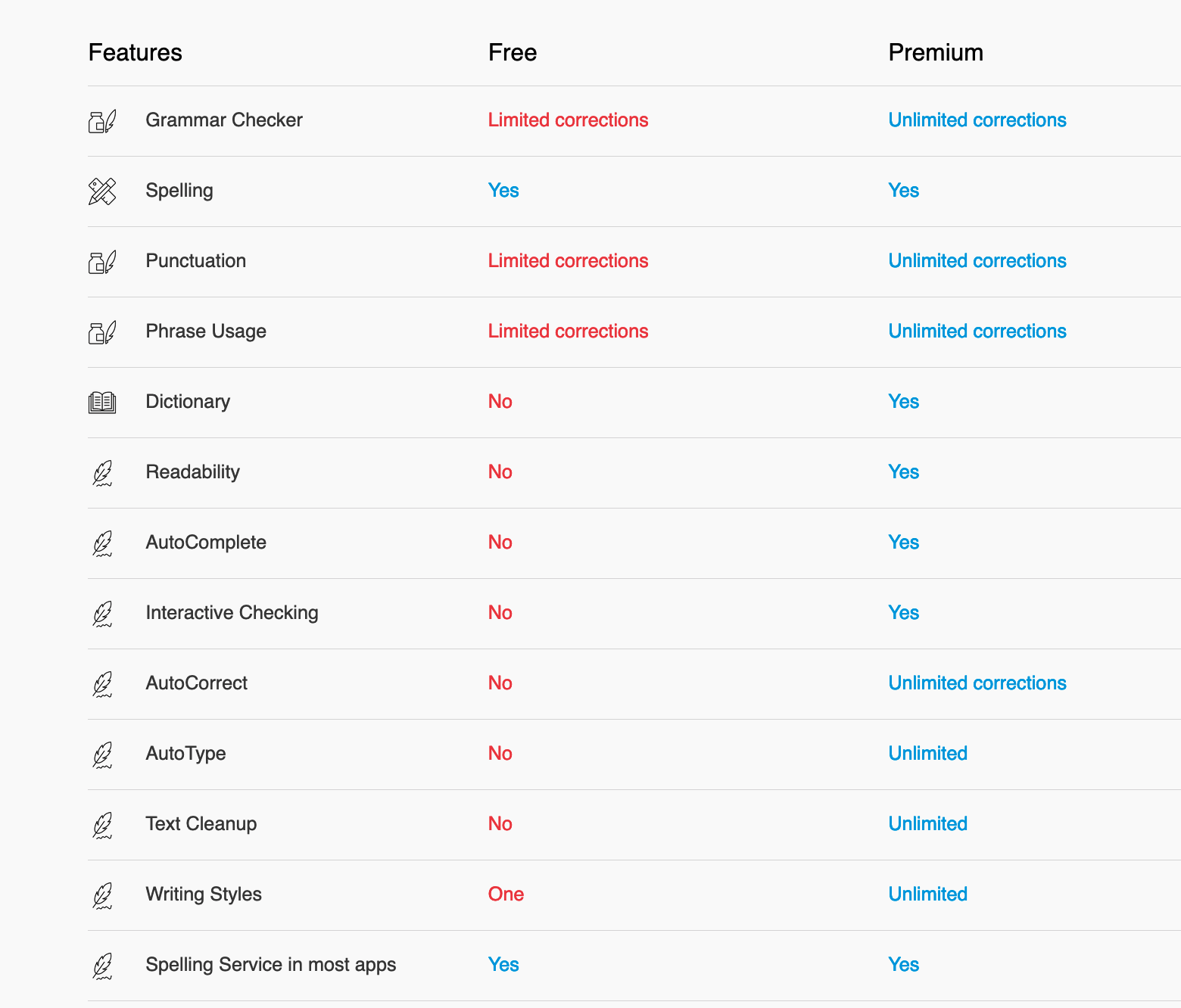 Various Fixes:
1. New white-on-dark menu icons for Big Sur/Monterey
2. Reverse_Unicode_Covert_char bug. Document Check window suggestions view and error problem view would not display the text correctly when a Unicode c3 combination was at end of text such as "Até breve!". 4/19/21
3. Fixed: Readability syllables calculations.
4. Fixed: Spelling suggestions with lower editdistance for fewer suggestions. (Nancy Holmes)
5. Fixed: Update the Document Check Error View pane when all checking is completed. The Error View is updated before the Paste Changes Sheet Window displays in order to view the changes to be pasted.
6. Document Check Error View pane rewrite to fix long-overdue error link offset accuracy bug. (v3.5b16)
7. Prefer and use Apple Pages RTFD clipboard format if supplied instead of RTF if no picture attachments exist.
8. Document Check Window Error View: Clicking on the Edit button now forms the edit sheet window, highlights, and scrolls to the error in the current sentence.
9. Fixed: Apple Pages RTFD graphics paste. Pasting RTFD in Pages would not include graphics.
10. Fixed: Document Check Window SplitView AutoSave for Monterey 12 beta.
11. Monterey macOS 12 support.
12. Automatically configure the Grammarian spelling/grammar service as the default service. This happens when Grammarian PRO3 installs the input menu during installation.
13. Fixed RTF clipboard format parse - tab and bullet
14. Fixed RTFD clipboard format issue with Scrivener.
15. Keyboard interactive checking typing speedup. Removed menu update bottleneck during typing.
16. Improved interactive checking with asynchronous processing.

---
---